As I have mention in a previous post while at Dreamhack, ASUS ROG offered me a Strix DSP gaming headset to try and review.
If you prefer watching a video review instead I made one here: Strix DSP video review.
I also made an unboxing video while at Dreamhack here: Strix DSP unboxing video.
So let's get started:
Look and feel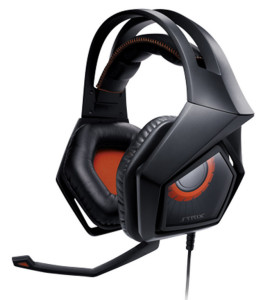 Well this is an easy and obvious one. The Strix DSP looks incredibly cool with a neat design and well picked colors.
I like the foldable cups design making it easier to store and transport the head set.
The mic is detachable too and despite the fact that it looks stiff, it is made of flexible rubber so you can position it as you wish.
The first impression when seeing the Strix DSP for the first time is that it appears kind of big and it is true it is a large headset. The cups cover the whole year entirely. Despite the size, the Strix DSP is not heavy and the suspension head band make the headset easier to wear and auto-adjustable on your head.
After wearing the headset for several hours continuously I couldn't feel any disconfort at all.
Sound and audio station
I'll start by saying that the Strix DSP sounds as awesome as it looks.
Since it's a gaming headset it works best with games. I've tried racing games, MOBAs, RPGs, FPS and simulators and they all sound incredibly good and this is in part thanks to the audio station that comes with the Strix DSP.
Before getting into details about the audio station I just want to mention that the 3D audio 7.1 Surround actually works. I was a bit doubtful about this since a headset only has 2 sides, it better than expected.
The audio station is connected to the computer by USB, and is truly plug and play. I've tested it with Windows / and 10 and it worked directly. The headset is then connected to the audio station via the audio cable. You can also connect your speakers to the audio station for easier switch between headset and speakers (no more right-click on the speaker icon, Playback devices, set as default 🙂 ).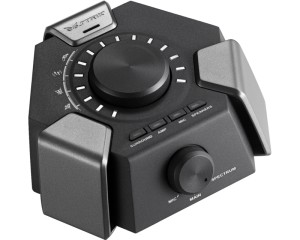 The big knob on the audio station is used to control the volume for the headset (or speakers) and mic (yes the mic volume is hardware controlled unlike many other headsets that only offer an on-off switch for the mic).  The volume level is indicated by LEDs.
The small knob is a 3-way switch used to select what you want to control with the big knob. Main (volume for the headset or speakers depending on what is active), Microphone or Spectrum. In Spectrum mode you can choose between 4 different gaming profiles. Racing, RPG, Shooter footsteps and Shooter whole experience.
There are 4 other buttons on the audio station: Surround on/off, Mic on/off, Amp on/off (used to switch sound amplification on of off) and Speakers on/off (used to switch to between Headset and speakers).
There is also a mic on the audio station used for noise cancellation.
On the bottom there are 2 "hidden" switches, on for switching between 2 or 8 channels and the other for switching Environmental Noise Cancellation on or off.
Besides gaming I've also tried the headset for other sorts of entertainment like movies and series. The sound is still clear and the surround gives a nice feeling while watching movies with surround support.
The headset is great for music also, it is of course not for music professionals, but casual music listening works really well. The bass is deep and feels powerful while the treble is nice and clear.
The Microphone sound incredible. As you know I use the headset mic while streaming and recording youtube videos. Well the mic quality on my former headset was not the best and I thought it was because it was a headset and I couldn't get any better quality unless I buy a professional mic. I have to tell you that the Mic on the Strix DSP delivers incredibly crisp and clear sound so I'll be streaming and recording using this mic now. Yay! :).
Compatibility with other devices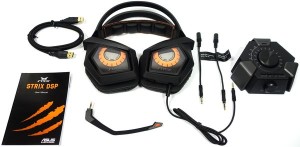 So what if I play Vainglory on my tablet, you say?
The Strix DSP works best when used with the Audio station, but it can be used on it's own with other devices, like smartphones, tablets, gaming consoles, TVs etc. A pair of adaptor cables make the headset easy to connect to you phone or tablet. The good news is that even though the audio station is not used, the sound quality is still incredibly good. I played some Vainglory using the headset and it felt like a whole new game being able to hear every detail. If you're going to be audio chatting or maybe even streaming directly from you android phone or tablet, the good news is that the mic works with those devices as well so no need for any external mic.
TL;DR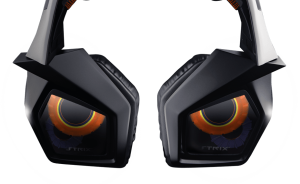 The Strix DSP looks awesome and it sounds as awesome as it looks.
Big headset although not heavy or uncomfortable.
Sound quality is very good especially for games.
4 profile EQ for different types of games.
The Mic delivers really good quality with crisp and clear sound. Good enough for hobby streaming.
The plug and play audio station makes it easy to control the headset and adds to the quality of the sound and the total sound experience with 3D Surround and Game Profiles.
Compatible with phones, tablets and consoles etc, via cable adapters included in the package.
Mic works with phones and tablets.
If you are not convinced yet about the Strix DSP, you will after trying it ;).
Hope my review was helpful!
See you on Twitch and Youtube!
/ahotiK